Milpa's Six Steps to Stop Germs
Milpa's Six Steps to Stop Germs
Introduction
In collaboration with our partners, we have developed the 'Milpa's Six Steps to Stop Germs' suite of resources. These resources aim to encourage everyone, particularly kids, to stay healthy and strong and eliminate trachoma and other infectious diseases through following Milpa's Six Steps to Stop Germs.
Blow nose until empty
Wash hands with soap and water
Wash face to clean snot and yucky eyes
Brush teeth with toothpaste morning and night
Have a shower with soap every day
Don't share towels
New Milpa's Six Steps To Stop Trachoma Resource Card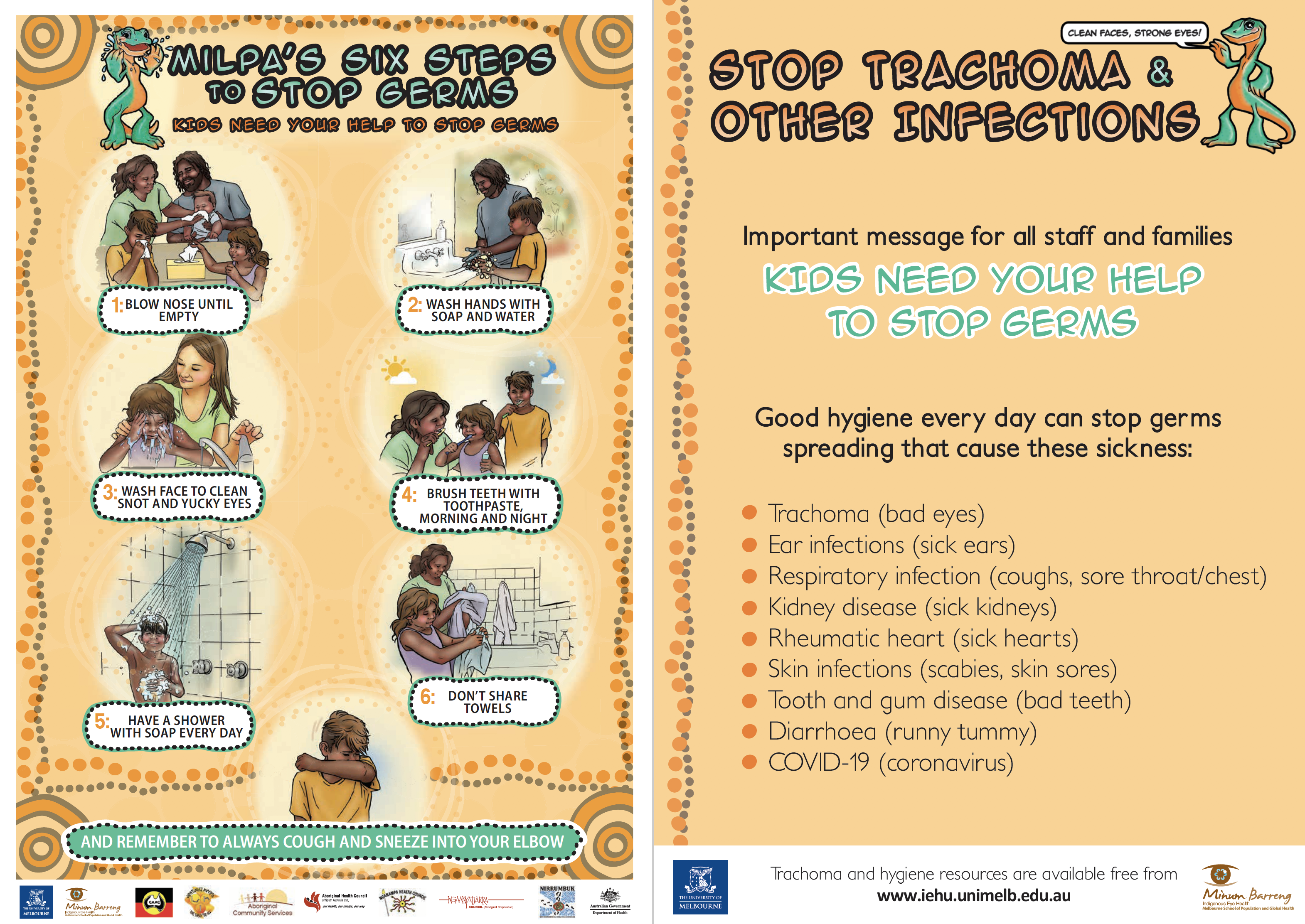 You can find this new card on the 'Resources' tab page
Background and Development
Developing unified hygiene health promotion resources
The aim of the development of the 'Milpa's Six Steps to Stop Germs' suite of resources was to create a unified approach to hygiene-related illness by expanding the steps to include actions that help prevent a range of childhood infections, not just trachoma. This meant having the key action of eliminating trachoma – 'wash faces whenever they have eye or nose secretions', alongside other actions such as 'having a shower with soap everyday' which helps to prevent conditions such as scabies other skin infections.
Repeated infections of trachoma can lead to blindness. Many other acute infections can lead to disability and chronic and life-threatening diseases these include; acute otitis media, tooth decay and gum disease, respiratory, gastrointestinal and skin infections.
It is unacceptable that young children in remote Indigenous communities have high attendance rates at clinics with infectious conditions being almost two-thirds of presentations in some regions1. Indigenous babies and children also bear a disproportionate burden of serious infections2 with higher hospital admission rates for infection in children under two, than non-Indigenous children.
To make lasting change for the elimination of trachoma and reduce other infections, health programs must increase knowledge, change social norms and behaviour change (the 'software') and provide the safe bathrooms infrastructure (the 'hardware') to conduct positive hygiene practices.
The ability to carry out positive hygiene practices is also limited by inadequate and poorly maintained health hardware, over-crowded housing, unaffordable soap, towels and cleaning supplies.
The health system must be supported by housing, education and environmental health sectors to address the underlying social determinants of infectious disease.
Community Consultation and Endorsement
During 2019 IEH conducted a widespread consultation to discuss the six steps images and key messages with Indigenous community members, and both Indigenous and non-Indigenous staff members from health, environmental health, education and language services in SA, WA and the NT.
The participants views were very considered and wide ranging, yet it was clear that Indigenous community members and staff held some similar views across SA, WA and the NT. In general, their input was similar to the advice of the Ngumbin Reference Group in 2010 "keep it simple", "tell us exactly what to do" and "describe the action clearly in everyday language". The input from Indigenous individuals and organisations was given greater weight than that of non-Indigenous input.
These recommendations brought together a way to communicate the best, evidence-based key messages for hygiene behaviour change, helped refine the images and select the final title. The title "Milpa's Six Steps to Stop Germs" was preferred, being very specific, was about stopping germs and could be linked to the popular No Germs on Me campaign.
Background
Four Steps
The unified hygiene resource originated in the Alice Springs Trachoma Health Promotion Group in 2013 to join simple steps for clean faces and hands as many hand-washing messages at that time did not include face washing.
Group members consulted with community members and stakeholders3 and created the Four Steps for Good Hygiene.
This was incorporated into the Families as First Teachers Health Hygiene and Safety Standards NT 20134 and taught by trachoma programs and in school hygiene routines in the NT, SA and WA.
Five Steps
In addition to nose blowing, hand and face washing, many schools include tooth-brushing in their morning routine.
Oral hygiene was included as a tool to support teachers and teacher assistants with this daily practice in 2016.
The resources were also widely distributed to community members for their homes and used in clinics, stores, youth services and many community programs.
Six Steps
The health promotion resources were reviewed in 2018 and a sixth step included to encourage good skin health by having a daily shower with soap.
The resources incorporate the well-known and accepted Milpa the Trachoma Goanna mascot and branding and the call to action for eliminating trachoma and other infections.
A review of the unified hygiene resources was conducted in 2019 to ensure images and key messages communicated current best practices clearly and consistently to audiences in remote Indigenous settings.
Indigenous community members, Indigenous organisations and health/hygiene networks had input and endorsed the final set of key actions with imagery.
Milpa's Six Steps to Stop Germs suite of resources are part of a new suite of health promotion resources and multimedia available in 2020.
Kearns T, Clucas D, Connors C, Currie BJ, Carapetis JR, Andrews RM. Clinic Attendances during the First 12 Months of Life for Aboriginal Children in Five Remote Communities of Northern Australia. PLoSONE. 2013; 8(3): e58231. https://doi.org/10.1371/journal.pone.0058231
Carville KS, Lehmann D, Hall G, Moore H, Richmond P, de Klerk N, Burgner D. Infection is the major component of the disease burden in Aboriginal and non-Aboriginal Australian children: a population based study. Pediatric Infectious Disease Journal. 2007; 26(3) 210–216
IEHU Trachoma Newsletter July 2013 https://mspgh.unimelb.edu.au/__data/assets/pdf_file/0009/1991781/Trachoma_Newsletter_2013_July.pdf
FaFT Health Hygiene and Safety Standards 2013, Office of Children and Families Northern Territory. NT Government. 2013
2 April 2020
Acknowledgements
Acknowledgements - Milpa's Six Steps to Stop Germs
IEH would like to acknowledge and thank a wide range of partners who were involved in the consultation. Some of those involved included community members and Elders, linguists, artists, Aboriginal health and environmental health organisations, hygiene networks and Government trachoma programs across NT, WA and SA.
Thank you to Aboriginal community members and many other individuals, organisations and networks who offered their time and expert views to refine best practice hygiene actions into clear and consistent hygiene messages to help prevent trachoma and other infections.
While many non-Indigenous organisations provided invaluable expertise, Indigenous voices were privileged above the non-Indigenous to ensure the resources were culturally appropriate and had meaningful imagery and text.
Aboriginal Community Services of SA
Aboriginal Environmental Health Directorate Department of Health WA
Aboriginal Environmental Health Workers Ngaanyatjarra Lands WA
Aboriginal Health Council of SA
Blackstone community members WA
Central Australian Aboriginal Health Congress Health Promotion Team NT
Children's Ground NT
Country Health Service WA
Department of Education NT
Derek Harris Chairperson Ngaanyatjarra Council WA
Dr Sam Osborne Regional Engagement APY Lands University of SA
PYEC Aboriginal Corporation SA
End Trachoma 2020 Rotary
Ending Trachoma Project Curtin University WA
Families as First Teachers Forum NT
Fred Hollows Foundation
Fregon community members SA
Health Hardware and Hygiene Network NT
Jan Mountney Linguist Ngaanyatjarra Lands WA
Katherine West Health Board NT
Maimie Butler Traditional Elder Blackstone WA
Mimili community members SA
Ngaanyatjarra Council staff WA
Ngaanyatjarra Health Service staff WA
Nganampa Health Council staff APY Lands SA
Nirrumbuk Aboriginal Corporation WA
Pitjantjatjara Yankunytjatjara Education Committee SA
Pukatja Clinic staff APY Lands SA
Shire of Ngaanyatjarraku staff WA
Squeaky Clean Kids Program WA
Tara community members NT
Trachoma Program Centre for Disease Control NT
Trachoma Reference Group WA
WA Country Health Service Perth, Goldfields, Midwest, Pilbara and Kimberley
WA Interpreting Service
Warakurna Artists WA
Warburton community members WA
Resources
Milpa's Six Steps to Stop Germs
Below you will find a number of resources associated with Milpa's Six Steps to Stop Germs.
We have also release some health and hygiene messages relating to COVID-19 (see below)
Please note files can open differently depending on the web browser you are using. You may need to right click and 'Save Image As' in order to download the .PNG files.
New Milpa's Six Steps To Stop Trachoma Resource Card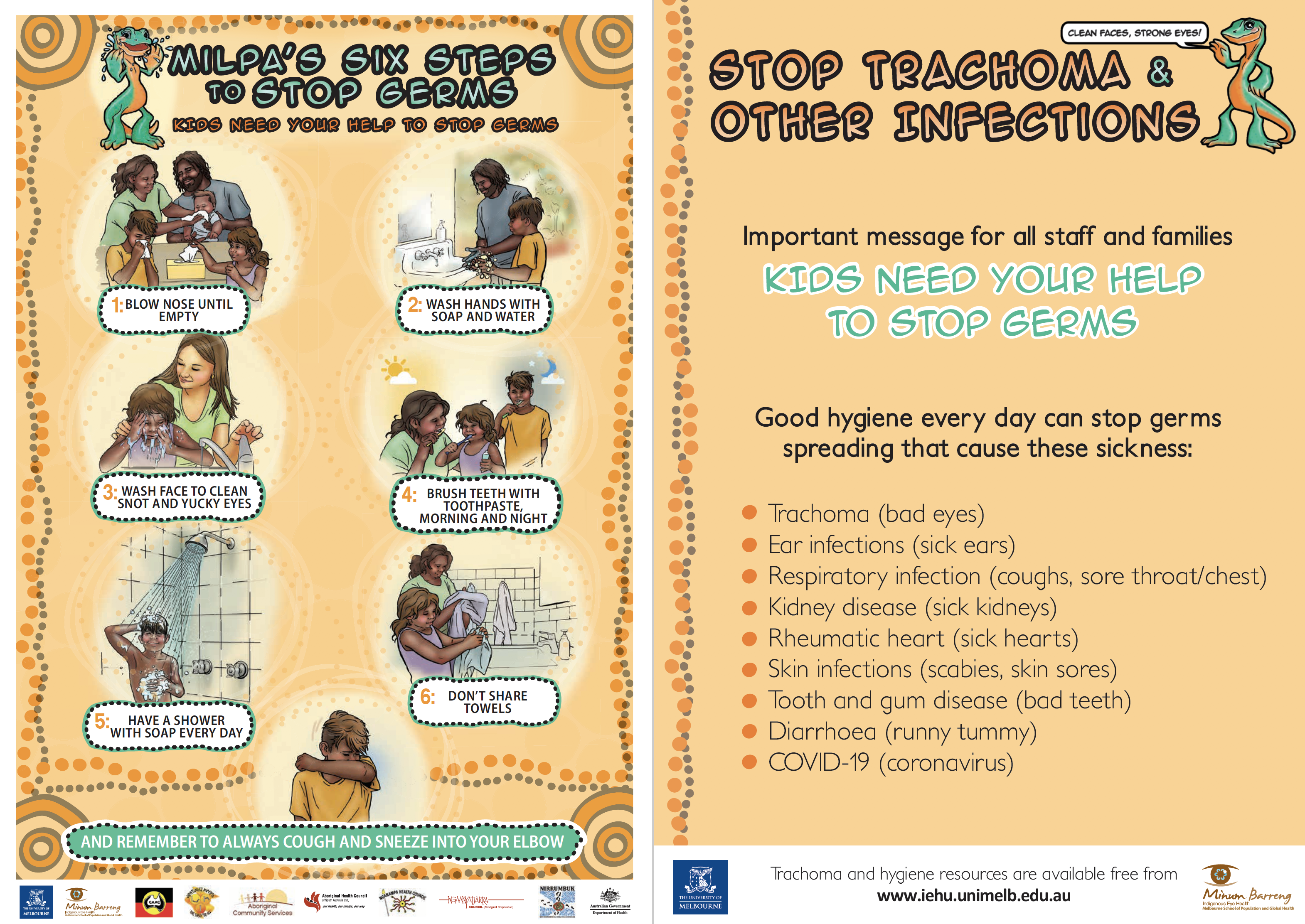 You can find this new resource find it in the 'Cards' tab below
COVID-19 Hand Washing Hygiene Health Promotion Resources

We have developed a number of resources to assist with health and hygiene messages during this current time:

Cards

Card- Cloth Towel Version (PDF)

Card- Paper Towel Version (PDF)

Milpa's Six Steps to Stop Trachoma / And Other Infections. A5 two sided card (PDF)

Stickers

(Please note: these artwork files are prepared for professional printer use)

| | |
| --- | --- |
| Sticker- Cloth Towel Version (PDF) | Sticker- Paper Towel Version (PDF) |

Posters

Colouring-In Sheets

Colouring-In Sheets (PDF)

Set of Image Cards (Kids)

Please note files can open differently depending on the web browser you are using. You may need to right click and 'Save Image As' in order to download the .PNG files.

Set of Image Cards (Adults helping kids)

Please note files can open differently depending on the web browser you are using. You may need to right click and 'Save Image As' in order to download the .PNG files.

Videos

Milpa's Six Steps to Stop Germs Augmented-Reality App Video

Milpa's Six Steps to Stop Germs with Drum Atweme

Milpa's COVID-19 Message

Blackstone Art Mural Project 2019/20

Six Steps to Stop Germs at Desert Dust Up 2019

Radio Ads

Ad 1 | Blow Nose Until Empty

Ad 2 | Wash Hands with Soap and Water

Ad 3 | Wash Face to Clean Snot and Yucky Eyes

Ad 4 | Brush Teeth with Toothpaste Morning and Night

Ad 5 | Have a Shower with Soap Everyday

Ad 6 | Don't Share Towels
Adapting the Resources
We strongly encourage organisations to adapt the 'Milpa's Six Steps to Stop Germs' resources.
We have provided artwork (in the download section of this page) and are happy to assist in the process of creating local adaptations of the 'Milpa's Six Steps to Stop Germs' resources. If you have an idea and would like some help bringing that to life, please get it in touch!
We have created a few templates that promote the 'Milpa's Six Steps to Stop Germs' resources you can customise with local people and local messages.
Style guidelines | Permission for use form
Templates for Adaptations
| | |
| --- | --- |
| Six Step Posters- Blank Template | |
| Six Step Card- Blank Template | |
| Six Step Image Cards- Blank Templates | |
Examples of Resources in use
Katherine West Health Board have adapted the concept of 'Milpa's Six Steps to Stop Germs' by having School Super Heroes to "help keep the trachoma germs away"
Examples of Adapted Resources
| | |
| --- | --- |
| Six Step Image Cards in Ngaanyatjarra Language | |
| Germs and Ladders Game | |
Milpa's Stop Germs App
A 3D Augmented Reality App has been developed to make learning about Milpa's Six Steps to Stop Germs more interactive and fun for kids and adults. The AR technology combines video and computer-generated visualisations for hygiene health education in remote Aboriginal communities to help eliminate trachoma and reduce other common childhood infections.
Milpa's Six Steps to Stop Germs was developed in 2019 with many stakeholders and had input from Indigenous leaders, community members, health organisations and education stakeholders and specialists from SA, NT and WA. The App will brings 'Milpa's Six Steps to Stop Germs' to life in an engaging and immersive experience for children, teachers and families.

A set of of colouring-in sheets featuring each of Milpa's Six Steps to Stop Germs and an extra colouring-in sheet about coughs, colds and coronavirus was added in 2020. (download the sheets below)

Each colouring-in sheet has a QR code that is scanned with the App on smart phone or tablet. It activates the video image of characters on the colouring-in sheet to complete the specific hygiene action. The video animations can appear in the unique colours used on the colouring in sheet.
Buttons can activate a voiceover explaining how to do that hygiene step, why it's important and which sicknesses the hygiene actions will prevent. Other buttons bring up facts about each hygiene step and play sound effects.
MILPA'S SIX STEPS TO STOP GERMS: INSTRUCTIONS
Spectacular App by QuiverVision. You just need colouring in pencils or textas!
PRINT: Print off colouring-in sheets (sheets can be download below)
COLOUR: Colour in one or more of the colouring sheets. Each sheet represents one of Milpa's Six Steps to Stop Germs.
SCAN: Open the 'Spectacular' app, scan the QR code at the bottom of the colouring sheet
PLAY AND LEARN: Move your device around to explore the 3D animations. Tap the characters to start the hygiene action. Tap to hear how to perform each step. Click to read more information about each step. And don't forget to try the Milpa mask filter!
DOWNLOAD COLOURING-IN SHEETS
A set of colouring-in sheets that when used with augmented reality app, 'QuiverVision' come to life as an animation of each child's unique drawing.
| | |
| --- | --- |
| App Colouring Sheets | |
EXAMPLES OF THE APP IN USE
See how the app comes to life once you have coloured the sheet and scanned the QR code.
Each drawing of a child doing the different hygiene actions will pop off the page when scanned and illustrate the hygiene action.
The App includes videos, music, sounds and voice overs describing each hygiene action, and additional facts about each of the Six Steps.
A fun reward is the fully interactive Milpa masks with face tracking which mimics facial expressions and actions.