Seminar - It's time for Australia to join the nuclear weapons ban treaty (watch video)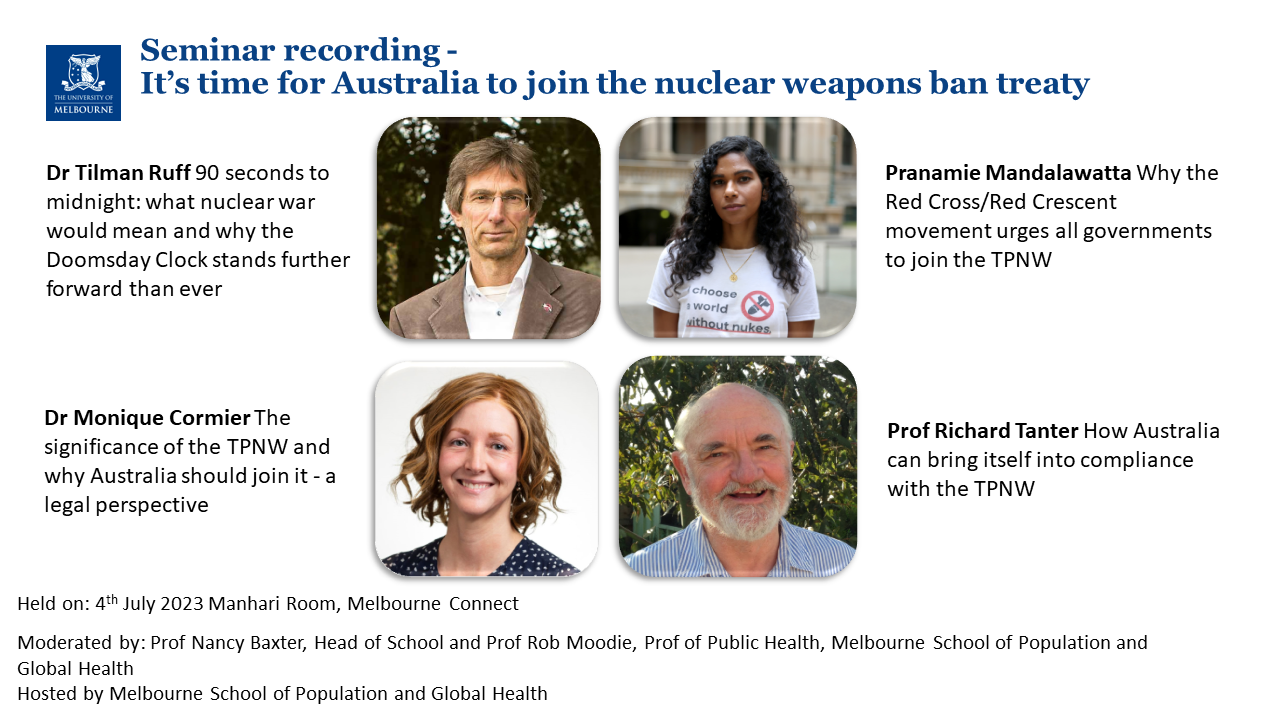 INTRODUCTION The Russian invasion of Ukraine and associated nuclear threats have dramatically raised the danger of nuclear war and pushed the Doomsday Clock closer than ever to midnight. Nuclear disarmament is in reverse, hard-won treaties limiting nuclear weapons have been abrogated, all nuclear-armed states are adding new weapons to their arsenals and potential flashpoints abound.
The one bright light in this dark landscape is the historic Treaty on the Prohibition of Nuclear Weapons (TPNW), adopted at the United Nations in 2017, which has been supported by major international health federations as a vital planetary health good. While Australia has joined all the other treaties banning unacceptable weapons, and the Labor Party's National Policy Platform commits it to join the TPNW, the Albanese government has yet to do so.
On the 4th July a Seminar was held, led by Tilman Ruff AO, to discuss the urgency to address nuclear weapons dangers and why Australia should join the nuclear weapons ban treaty without delay.

(NOTE:-Due to sound issues at beginning of seminar, the recording starts with video from Josh Wilson MP. Also there was a 7 minute loss of sound during Prof Richard Tanters presentation. Apologies for these technical errors)
Contributors were:
90 seconds to midnight: what nuclear war would mean and why the Doomsday Clock stands further forward than ever - Dr Tilman Ruff AO, Hon Senior Fellow MSPGH, founding chair, International Campaign to Abolish Nuclear Weapons, immediate past president, International Physicians for the Prevention of Nuclear War
The significance of the TPNW and why Australia should join it - a legal perspective - Dr Monique Cormier, Senior lecturer, Monash Law School
Why the Red Cross/Red Crescent movement urges all governments to join the TPNW - Pranamie Mandalawatta, International Humanitarian Law Legal Adviser, Australian Red Cross
How Australia can bring itself into compliance with the TPNW - Prof Richard Tanter, Senior Research Associate, Nautilus Institute; School of Social and Political Sciences, University of Melbourne
Labor and independent members of federal parliament have been invited
Hosted by: Melbourne School of Population and Global Health
Bios
Associate Professor Tilman Ruff AO is an infectious diseases and public health physician, with particular focus on the urgent planetary health imperative to eradicate nuclear weapons. His work also addresses the broader public health dimensions of nuclear technology. He is a co-founder and was founding international and Australian chair of the International Campaign to Abolish Nuclear Weapons (ICAN), and serves on the Committee of ICAN Australia.
Doctor Monique Cormier is a Senior Lecturer at Monash University Faculty of Law where she teaches Criminal Law and International Law. Her primary research interests include jurisdiction and immunities in international law and legal issues relating to nuclear non-proliferation. Publications include 'Can Australia Join the Nuclear Ban Treaty without Undermining ANZUS?' (Melbourne University Law Review, 2020, co-authored with Anna Hood); and 'Running Out of (Legal) Excuses: Extended Nuclear Deterrence in the Era of the Nuclear Ban Treaty' in Nuclear Non-Proliferation under International Law: Volume V (TMC Asser Press, 2020). Monique is currently undertaking research on the international legal implications of AUKUS and on the international legal regime relating to nuclear threats.
Pranamie Mandalawatta is a Legal Advisor at Australian Red Cross responsible for engagement with the Australian Government and legal sector on international humanitarian law (IHL) issues. As part of this role, Pranamie manages Red Cross's engagement with Government on the elimination of nuclear weapons. Pranamie has a background in IHL, human rights, cyber law and national security policy and was formerly acting as a senior legal officer at the Australian Attorney General's Department. She has also has experience with criminal defence law, an international war crimes tribunal and holds a Masters in public international law from the Australian National University.
Richard Tanter is Senior Research Associate, Nautilus Institute, and Honorary Professor in the School of Political and Social Sciences at the University of Melbourne. A former president of the Australian board of the International Campaign for the Abolition of Nuclear Weapons (ICAN), Richard is a researcher now mainly writing on issues concerning nuclear weapons, intelligence facilities, and Australian foreign policy. Undermining the Treaty of Rarotonga: nuclear-capable B-52 aircraft at Forward Operating Base Tindal will be published shortly as a Nautilus Institute Special Report.
Video descriptions:
Support from Josh Wilson MP Federal Labour Member for Fremantle in Western Australia.
Aunty Sue Coleman-Haseldine speech to TPNW negotiations first session 28 March 2017
Karina Lester speech to final negotiation session June 17