James 'Jock' Peterson works for Mallee District Aboriginal Corporation (MDAS) in Mildura, Victoria. In the latest instalment of the 'Share Your Story: Personal Reflections' initiative, Jock shares with us his personal journey of survival, family and his passion for eye health in the Indigenous community.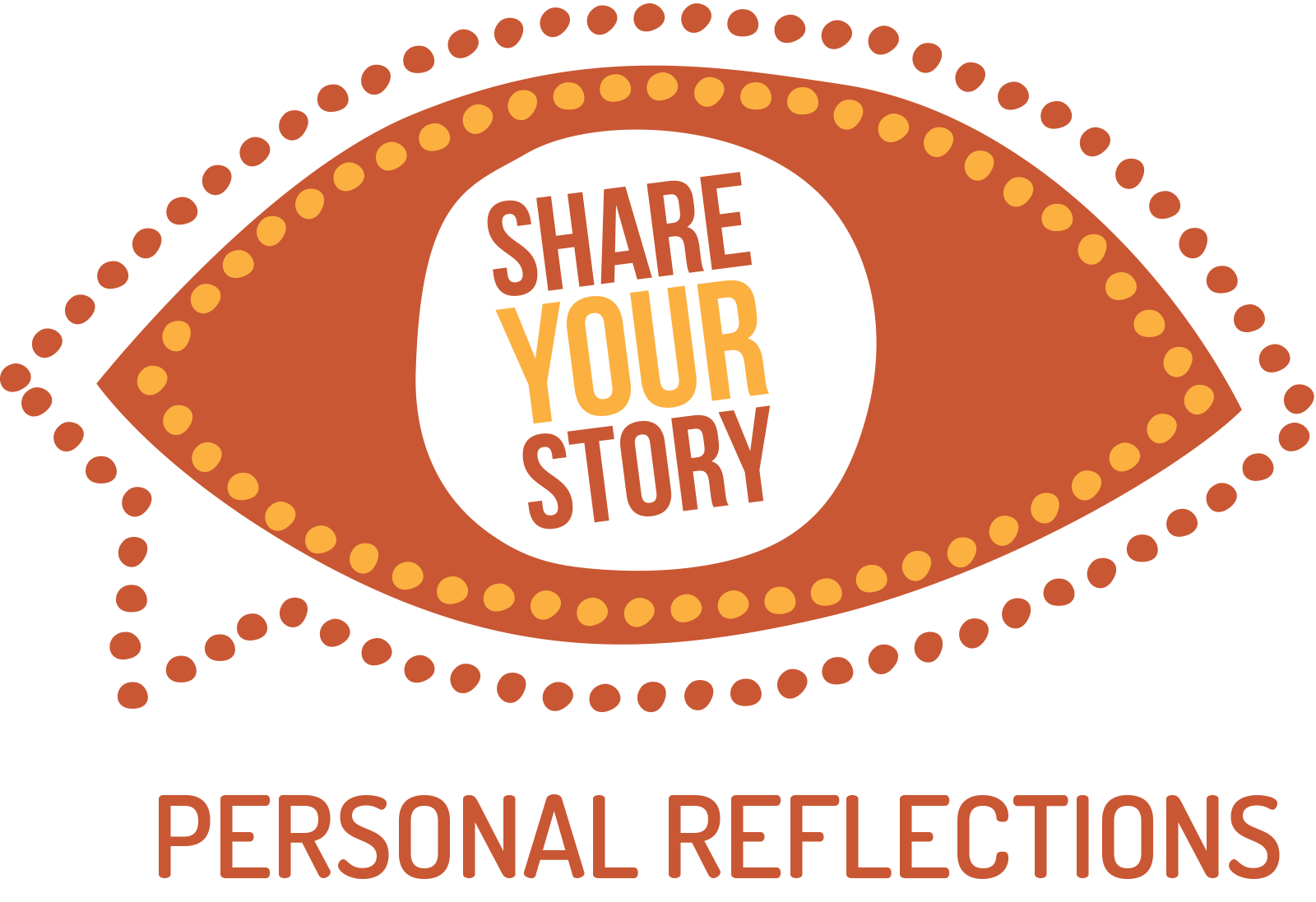 Jock Peterson was interviewed by IEH staff member Nick Schubert for this instalment of 'Share Your Story - Personal Reflections'.
Tell me about your early years Jock. Where did you grow up?
I grew up in a place called Brewarrina, in northeastern New South Wales. A couple of hundred Kms from Bourke. Everyone has heard of Bourke but no-one has heard of Brewarrina.
How long did you spend there and how did the Mildura move happen?
We've got uncles and aunties, cousins and my Nan and Pop living here in Mildura and we sort of travelled back and forth over the years when I was a child. We moved here just after my 10th birthday so that my parents could chase work. They decided to change the education system for us four children by moving here to Mildura and I've been in Mildura ever since.
Can you tell us about how important culture has been in your upbringing.
It's very important. When we were small kids, we got to go out on country because we lived so close to the bush. We got to go out on country every single day. And that's how we know we grew up. We got a lot smarter and stronger about how to protect ourselves and how to help our families and be with our elders. So that's really important to us as it keeps us linked to our culture and to our elders and all of our communities and our country. I come from the Ngemba people. That's my home country in Brewarrina. That's my mum's people. My dad's people are the Kamilaroi from Queensland.
You've had an interesting life with lots of lots of twists and turns. Did you want to talk a little bit about that?
I'm happy to talk about it. I've told the story many times. Just over 20 years ago, my dad contracted acute leukaemia. He suffered with that cancer and the treatments for six months before it claimed his life. My brother and I had to come to the party and help out with mum and my sisters and uncles and aunties. It took us a long time to get over his passing.
And then in 2010, I was diagnosed with a really aggressive cancer on my left thyroid. So I didn't think too much of it because there wasn't a whole lot of pain. But I ended up with, a really hoarse voice, which then started to make me really sick. And after about nine months of investigations, we realised that I have had a cancer in my left thyroid. It was a carcinoma. It was 18 centimetres in diameter. So that had to be removed and then I had to start my treatments - radiation, surgeries and all that. So that was a pretty rough few years. And then I started to come good.
In about 2012, I started getting sick once again with the same sort of problems that I had in 2010. I went back and found out that I have cancer in my right thyroid, that was even more aggressive than the first one. It leaked into my right side during all my surgeries and all my treatments. The only problem with the second cancer was there was a chance it was going to become terminal. Which then put me back to square one to where my father was. But then I had a bit of a stroke of luck. There was a radio-iodine treatment that I could trial from Canada. So I opted to take that treatment. I mean, I was going to try anything at that point. So I took that treatment and the first one didn't go so well with the chemotherapy. So they had to stop all other treatments and just do the radio-iodine treatment. A few courses of that and it seemed to work, but it took probably four years for me to get back on my feet after the last treatment.
Everything was going really good for another few years and then one morning I got up and I had blurry vision in my left eye. So I went and got tested and ended up having a tumour behind my left eye. So it felt like back to square one again. I went in and had the surgery and they cut it out and did some more treatment. Everything seemed to be pretty good after all that but then I started getting sick again probably 12 months later. I had another check up with the cancer specialist from the city and it turned out I had a few tumours in my bowel. So once again, I went back in for more surgery and had the tumours cut out and it was a success. Everything seemed to be really well. No treatment needed after that surgery. I've just had to change my life. I've given up drinking and smoking and all that sort of stuff. I haven't done that for probably about eight or nine months now. So everything seems to be going along really, really well.
You're a survivor Jock.
I couldn't handle any more treatment. I'm getting old now. But I'm happy, healthy and I'm doing really well. After I finished my last battle, I had to then go through an aggressive cancer diagnosis with my little brother. He had a really rare lung cancer. But he's all good now. He ended up doing a lot of chemotherapy and that ended up working really well for him. So, we were very lucky. Cancer is right through my dad's family. He lost the couple of sisters and there's another sister that has been fighting cancer for about 12 years. But hopefully I have had my little run and I'm over it. I just couldn't be bothered doing it again.
Thanks for that Jock. It's a really amazing story.
You've been involved in eye health for a long time. How did you get interested in that? Can you give us a bit of a history?
Well I started at the Mildura Aboriginal Corporation Health Services as a receptionist. And one day the health manager came in and said, we need to employ a new eye health coordinator for Victoria. They were looking for someone to fill the role of the Victorian Aboriginal eye health coordinator position. That entailed taking a retinal camera around the state, taking retinal screens and bringing the images back to Mildura and speaking with the optometrist. And sending the referrals to their services and getting patients linked in with local optometrists or the GP.
At that point my wife also had some vision problems, so I wanted to learn more about it. So that's why I had applied for that role. About a week after applying I got the role and then about another week later I hit the road. I travelled all around the place in my little Subaru Forester with this retinal camera. So we initially visited Robinvale, Swan Hill, Kerang, Bendigo.... those sort of places. I spent a week at a time at each place, which I absolutely loved. And then after a while it came back to me to coordinate the programme across the state. So I helped to link services from different areas in with the optometrists and the ophthalmologists - also using services from the Royal Eye and Ear Hospital in Melbourne and the hospital in Adelaide.
Eye health has been a passion of mine for a long, long time. It's been about 14 years now since I started doing this... That is a long time isn't it?
Image: (L) James 'Jock' Peterson with Allied Health Coordinator Crystal Kirby outside the Mallee District Aboriginal Service (MDAS). (R) Jock performing a retinal camera scan on Paul Roberts.
It sure is. Didn't you have a family member that had also met Fred Hollows?
My father used to work with a lot of youth and he went to a youth summit where he met Fred Hollows and his team. He came back and he said he's an absolute champion in his field. Also Fred Hollows did a bit of work out the back of Bourke. There he met my grandfather, Thomas Martin Winters. He came home talking about Fred Hollows and how he's helping all the Koori kids from around the area.
What do you think works well in terms of getting community members to understand eye health and get their eyes tested and get any treatment? What needs to happen to make that work well?
Well, we start off with health assessments. The health checks. We ask questions about vision, hearing and all sorts of stuff. We test visual acuity. We have reading charts. We offer the retinal screen. We've also got a visiting optometrist that comes to the MDAS health service every four weeks, from Bluestar Eye Care and we've normally got a pretty full book when he comes. Which is absolutely amazing. And also we utilise a lot of optometry appointments locally over at Eyecare Sunraysia, which is Stephen Jones and his associates.
It's very, very important that we offer services from within the Aboriginal medical service. We've got some clients that don't like to leave their homes. So what I do is I go and pick them up and I'll bring them in and I'll sit with them and have a bit of a yarn until they have to go in and speak to the optometrists or any of the other specialists that we have here. But also the relationship between our community and the local service at Eycare Sunraysia is really, really strong. They make it really easy to want to go to the appointments. Their staff are beautiful people.
Well, any good news stories you could share with us?
Yeah I've got two I can think of straight away. I had a client of mine that I was helping out with issues with eye care over the last couple of years. She went on to the local public waiting list for ophthalmology. But the wait list was really long and we had problems trying to find funding to get it done privately.
I took it upon myself to organise another referral through the local optometrist and I sent the referral through to Melbourne. That lady that I'm speaking of, she's actually a full time carer for three of her grandchildren and she had to have her eyes fixed in order to get full custody of her grandkids. She went back and forth to Melbourne, probably four or five times to the Royal Eye and Ear Hospital for cataract surgery.
I saw her a couple weeks ago and she was about probably 200 metres away and she recognised me. She called my name and she waved to me and she said, look, I can see you mate. That was that was absolutely awesome. She's back to walking down the street without aids and she doesn't have to have any family members with her. And she's looking after all the kids and doing absolutely fantastically now. And now that she's had the cataract surgery, she doesn't even need many of the MDAS services. She can catch public transport by herself, go shopping by herself. She does everything now. She reckons her vision is 100 percent fixed.
She called my name and she waved to me and she said, look, 'I can see you mate'. That was absolutely awesome.
So she went through the Indigenous support program at the Royal Eye and Ear Hospital?
Yes and she's just one. We've had about five. And we have another lady, she's not originally from Mildura and she wanted to go home to spend the rest of her life with her young family. But she couldn't. She had to stay here because she had been waiting for ophthalmologist treatment. So I actually transported her to Melbourne for cataract surgery. When we came back, I didn't see her for a couple weeks. And when she walked in the door, she walked up to me and looked me straight in the eye and said I can actually see now. She had a majority of her vision come back over time and now she's just looking forward. I remember before the surgery she was sitting across the table from me and she couldn't even see me. But now she's got vision in both eyes and she's even driving again. She's out getting fit again. She's not drinking and smoking. She bought a little car and she drove all the way home and has now moved back closer to her home and is trying to get a job in the medical service.
Also, we've been doing this 'second bite' programme. It's a food parcel programme and during the COVID-19 we've been doing between 5 and 10 food parcel deliveries, five days a week. We've been catching up with everyone that we don't get to see much because of the actual COVID-19 pandemic. Through that programme, we've been checking on their medications and having a conversation about everything. And that seems to be helping clients stay on top of the services they need.
Outside of work, what makes you tick? What gets you up in the morning?
I suppose with what I've had to go through over the last, probably ten or so years, that gives me a bit of a shunt to get out of bed every morning. I've got my kids, my missus, my mum and my brothers and sisters. They like to give me a bit of a kick in the bum if I stumble. But I'd have to say the chance to come into work and help people. I think that's sort of gives me a smile. I've been here a long time now and I still enjoy coming to work. So I'm hoping for my job to change in the next few months to work more around outreach so I can be more involved in my community and be in the homes. That way I can keep an eye on them.
Thanks so much for sharing your story with us Jock.
---
If you have any questions relating to this 'story' please contact James Peterson via email: jpeterson@mdas.org.au
This 'Share your Story' article was published 16 July 2020.