Colin Moore a Wandandian – Wadi Wadi man from the Yuin Nation of NSW shares with us his journey and the importance of culture in his life and work.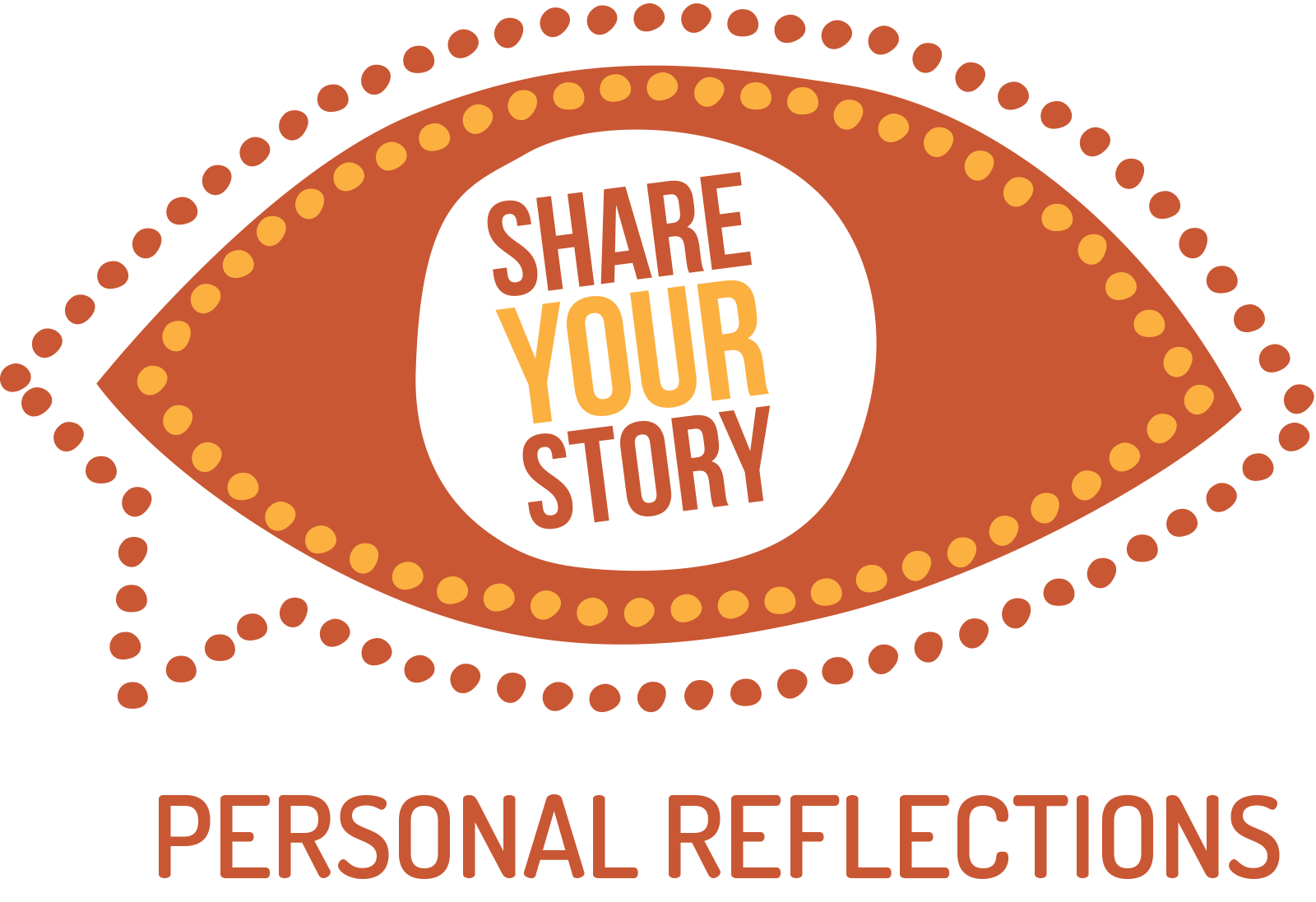 Colin Moore was interviewed by IEH staff member Tessa Saunders for this instalment of 'Share Your Story: Personal Reflections'.
Ngurrampaa – Tjukurpa
Colin Moore, a Wandandian – Wadi Wadi man from the Yuin Nation of NSW was part of Indigenous Eye Health's trachoma team from July 2019 until May 2020. His Aboriginal family are from the Wreck Bay Village community in Jervis Bay Territories, 25 kilometres from Nowra on the NSW South Coast. His cultural connections reach across NSW where his Ngurrampaa teachings further connect him to his culture and country. Colin praises his Tjamu, Mr Paul Gordon for his cultural teachings, and his parents Tom and Pam Moore for his adventurous life.
In this interview for Share Your Story, Colin shares his journey from NSW to Central Australia and the importance of culture to his work in Indigenous eye health. Central to this are relationships and respect, including between people and place. The story of Colin offers insight into the experience of Aboriginal and Torres Strait Islander Australians in the professional health workforce, working across the two worlds to deliver better health outcomes. These stories are important to document and share, so we can better support and strengthen Aboriginal and Torres Strait Islander people currently working in various health related roles, as well as to improve cultural safety of non-Aboriginal or Torres Strait Islander organisations in the eye health sector, and the health sector more broadly.
The title of your story is Ngurrampaa to Tjukurpa, what do these words mean, why are they so important?
The meaning of the word Ngurrampaa and its origins are from the language of the Ngemba people (Western NSW) which translates to 'my place, and how I relate to everything in it'. It is the Central Australian equivalent to the word Tjukurpa, which is described as follows:
Tjukurpa has many complex but complementary meanings and refers to the creation period when ancestral beings created the world as we now know it. Tjukurpa also refers to the present and future.
Tjukurpa encompasses religion, law and moral systems, it defines the relationship between people, plants, animals and the physical features of the land. Tjukurpa contains the knowledge of how these relationships came to be, what they mean and how they must be maintained. (https://aiatsis.gov.au/exhibitions/tjukurpa)
Tell us about your early years Colin, where did you grow up and how important was culture in your life?
From the age of 8 to 17, I lived in a fairly quiet and private home in an urban area. Before and after these years I spent some time living in regional locations on and near my community and cultural homelands. My hunger to connect with Aboriginal people and culture grew stronger in my teenage years. I remember my early schooling years, growing up with cousins and family on the south coast, and how fun it was to be where I felt a sense of belonging. Later, I began to travel south with friends on trains, and hitch-hike from place to place to visit family and spend time with cousins. I started to see the world was not one, and for me and my people, they had been learning how to operate in these two worlds simultaneously.
Then comes the years of going 'bush'… I was invited to consider learning more about my cultural practices, and how to begin to walk a sacred journey. This was not easy after going through mainstream schooling and grappling with urban ways of thinking and living. Learning about sociology and anthropology was extremely fascinating, particularly anthropology. The study of peoples and their ideological make up, and how this evolved over time helped me see the world through a different lens. This knowledge and understanding can be a barrier when thinking from a cultural way. Understanding the Ngurrampaa becomes possible when all is stripped away from one (or temporarily set aside), and the only thing between you and the Mother Earth is clothes and your mind or ego.
What attracted you to working for Indigenous Eye Health, and what life experience helped you in the role?
I'd lived in Alice Springs for a few years before but during that time I had few opportunities to make deep connection in community through my work, which was government based and had limited flexibility to engage 'right way'. I was in Melbourne waiting to undergo a medical procedure and noticed a job advertised as Community Engagement Officer with Indigenous Eye Health – Melbourne University. This was appealing originally because of the location of the work, in the Central Australia, NT-SA-WA tri-state border region.
Around 5 months before sitting in the interview for the position, I had travelled to some communities in the Anangu Pitjantjatjara Yankunytjatjara Lands in Central Australia. Seeing the job for the first time, I felt my whole life had led me to be able to contribute with purpose to this position. The red dust of central Australia was already in my bones, and I felt I had unfinished business to fulfil.
I didn't know anything about Indigenous eye health before seeing the advertisement for the position. As I began to do some research about what trachoma is, and what Indigenous Eye Health were on a mission to achieve, I started to see the enormity and purpose of the role. That excited me.
I didn't yet know how my cultural teaching would complement the role, however, I trusted I could learn a lot if I listened and observed what was happening around me, and if I went about my business in a respectful manner. My adventurous traveling life to date, had me building relationships with First Nations peoples in the USA and Canada, as well as in many Aboriginal communities throughout Australia. I felt confident I could be of some use in the role.
Have your cultural teachings helped you connect with your peers and people you engage with in communities?
Ha ha, you'll have to ask them…
The Ngurrampaa consists of past, present and future as one. That is, it has no ending, it does not cease to exist at my physical life's ending or start at a particular point in time – my birth date for example.
As I listen to the stories being shared with me through my cultural teachings, a series of learnings about life, community, country, and purpose begins to unfold. It teaches me about how I can live in harmony with all people while doing my part to look after the Mother, wherever I am in and on country. My teachings help me to think about my motives and reasons for doing things, and evaluate if this is about self, or about sharing in good spirit.
As Trachoma Community Engagement Officer, I've had the privilege of meeting beautiful people in many communities. I've ran trachoma specific information sharing sessions with wadi's (men) behind closed doors, which have created opportunities for us to share on a deeper cultural level.
My cultural teachings help me in community by knowing when to talk, when to listen, how to 'see' what's going when others may view situations as nothing is happening and being able to navigate risky a situation or culturally inappropriate engagement back to a safe space. I hope I've been able to do this in a good a way…
What have been your standout moments in the job and can you share with us any important things you learned through these experiences?
There have been many standout moments but I'll tell you a bit about three of them.
Image: Papulankutja Cook Up – Blackstone Mural Project
In the later months of 2019, in partnership with Indigenous Hip Hop Projects we engaged with the Papulankutja community to develop a community mural. The Mural was to help raise awareness about trachoma and was designed with the community. During my third visit to Papulankutja, I was out with community and our project partners visiting significant sites. During this time the local people asked if we would like to meet in the evening to cook some bush tucker and share stories about the Tjukurpa. We accepted and packed three carloads and went out when planned. We had senior Lore women present, we helped community members prepare the fire and food, and we sat in the red dirt while the tucker was cooking in the fire. It was truly a surreal moment in time.
Thinking for a minute of all the times in my younger days dreaming about being in the furthest communities of Australia with my people, cooking bush tucker, and now I had finally arrived…. Wow, I thought, as the childish adventurer sat in awe of the moment.
On the other hand, my cultural teachings and instincts were on alert, seeing and feeling the dynamics at play, noticing who was who, engaging with caution and in a respectful manner.
My colleagues and our partners began to try to capture project related information from our hosts. Unknowingly, they started to seek information which was culturally inappropriate based on the gender and kinship cultural dynamics. Part of the Mural included male specific Tjukurpa, and another part related to a lineage of totem and kinship belonging to other people not present at the cook up. I was able to encourage us to take a different approach by accepting what is shared and given freely rather than seeking what we think we need. From this place, we can be open to learning something new. This helps to enjoy and share the moment, and allows what needs to unfold, do so naturally or organically. We did that and watched the storm dance around from the west as the night fall drew near.
Image: Kintore Country Comes Alive – Community Engagement Visit
When visiting Kintore for an initial meet and greet, my colleague Lesley and I were invited by elders to visit some of the surrounding sites and travel on country. We gladly accepted and, with two local senior Lore men, travelled on the sandy roads out of town. We passed many significant places on our journey, and the whole country began to come alive in every direction. The Tjukurpa stories being shared transformed what could be described from a western urban view as desolate, dry sandy roads in the middle of nowhere, to spiritually energetic pathways full of abundance, mysteries and information of life and living.
On a deeper level, the Ngurrampaa teaching from my Elders became more relevant, more real, more important because I see further beyond my limited thinking. The songlines, sometimes described as an invisible spider web spanning across Australia, full of Ngurrampaa and Tjukurpa are one. Six hours away west of Alice Springs, whether sitting in a car or standing on the country, I am home again in my Spirit.
Image: Wadi's in Lock Down – CDP Trachoma Information workshops
When travelling anywhere in the world in Indigenous communities, there are always cultural aspects barriers which impact on the community engagement process. When preparing for community visits, non-Indigenous stakeholders will often say we don't need specific gender split workshops. Some of their work is able to be done with co-gender groups and while I take it on board, I like to remain flexible knowing what I know about culture and gender. On recent community engagement trips to 4 communities, 3 of us (2 female and 1 male staff member) engaged with multiple stakeholders facilitating information sharing sessions on trachoma in schools, councils, clinics, CDP programs etc.
When arriving at our 2nd community, we were ready to deliver co-gender information sessions, but this ended up with me talking with men only. Wadi's in lock down I like to refer to it as, because we were led by the men present who preferred to have the discussion privately, without Koonga's (women) in the room.
From this place we were able to share on a deeper level, which dropped into a deeper connection the more we shared.
We started with introductions about who we are and where we are from. We then discussed what trachoma is, where the germ lives, and how it gets transmitted. We then talked about how to we get rid of it and how we avoid getting trachoma. For statistical reporting and box ticking work achievements, my job was done and that would be enough to please the powers that be and fulfil the integrity of our visit's purpose. However, from an Aboriginal perspective we were able to connect on a deeper level through the small exchanges sharing of our Ngurrampaa – Tjukurpa. Our stories and songlines connected, words in language were exchanged, our spirit and relationship with the Mother aligned, and again I feel at home in my Spirit, and with my people.
The next morning Spirit was at work again, and this time I found myself meeting a group of staff at the local council offices, which happened to be all men. As I trusted the process, we again found ourselves in a room, Wadi's in lock down with the door closed, sharing the important health
Image: Colin meeting a group of staff at the local council office
You described before the experience of living in 2 worlds when you were growing up, has Walking in 2 worlds been something you've also experienced in your work?
Ngurrampaa, as mentioned above, means 'my place, and how I relate to everything in it'. It consists of the past, present and the future. Also, of kinship, land, songs, dance, stories etc When I am given cultural teachings by cultural teachers and knowledge holders, I have a responsibility to take these lessons on board and to practice these principles in my life. I am also given these gifts to pass on this knowledge in right way to others.
Walking in 2 worlds is a privilege…
Knowing this and accepting this, I am often conflicted in my working world on a number of levels. Finding a balance of doing what is right for myself, my people now, and my people who come later was once a real challenge. However, the more I accept culture, connect to country and continue to practice and share my teachings, the pathways become stronger and clearer. No longer can I settle for getting what is right for me immediately or in the near future. It would be easier if I could just worry about myself. It would also go against all my cultural teachings of sharing, caring and giving. If I don't speak up when I see something is not aligning culturally in a good way, I am also neglecting my responsibility to carry forward the importance of Aboriginal Lore, the preservation of our way of thinking, and our ever evolving Ngurrampaa and Tjukurpa.
---
If you have any questions relating to this 'story' please contact Colin Moore via email huckding@gmail.com
This 'Share your Story' article was published 28 May 2020.