In the latest instalment of the 'Share Your Story: Personal Reflections' initiative, we talk to Tania McLeod, Senior Project Officer with the Indigenous Australia Program at the Fred Hollows Foundation. Tania is Torres Strait Islander, of the Western Island Group, Mabuiag Island and Aboriginal of Jawoyn/Mangarayi decent. Tania was born, raised and works in Darwin on Larrakia country.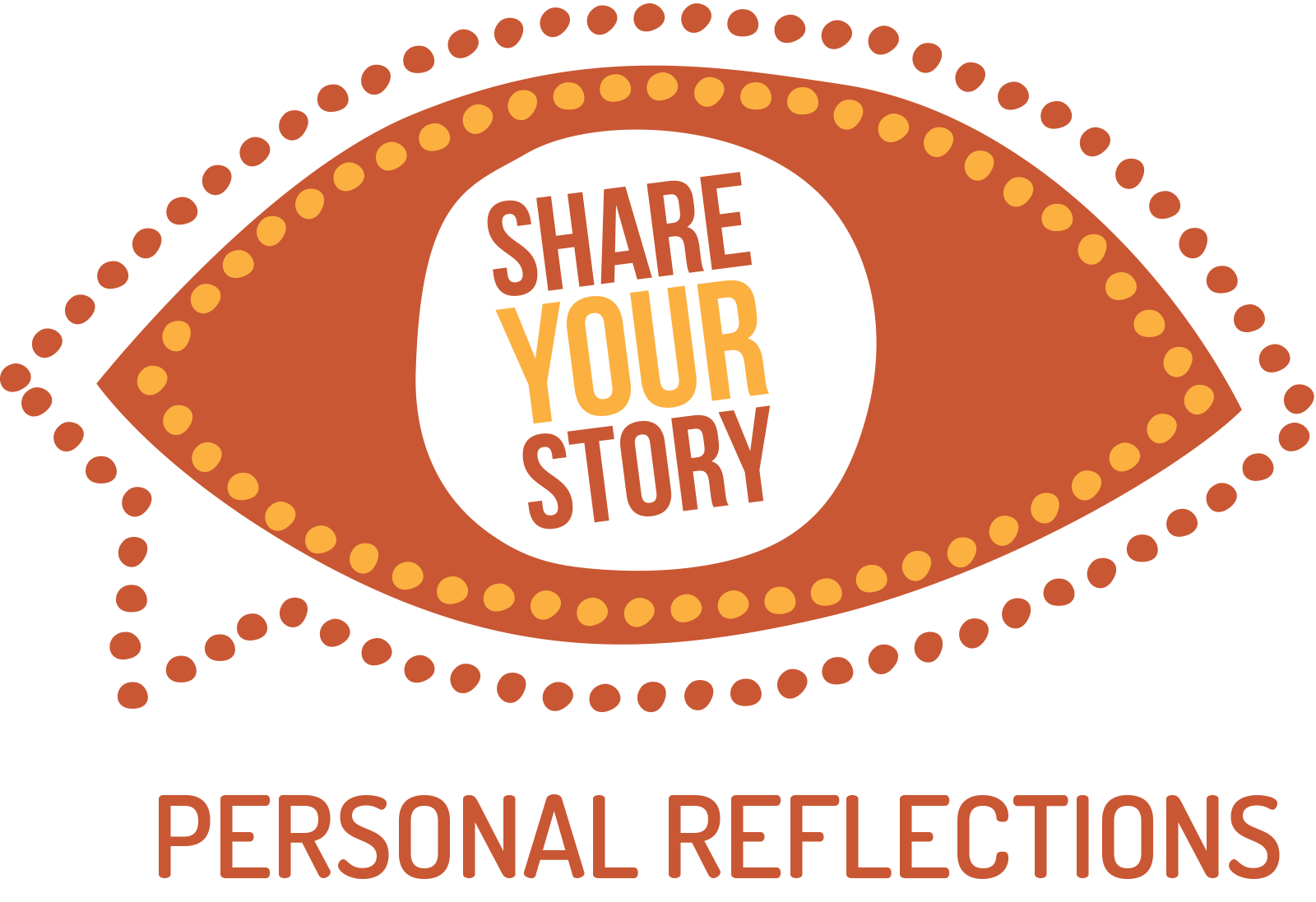 Tania McLeod was interviewed by IEH staff member Nick Wilson for this instalment of 'Share Your Story: Personal Reflections'.
Tania, thanks so much for taking the time to talk with me today. Would you mind telling us a little bit about yourself? Where are you from? Where's home?
Of course, I love sharing this sort of thing. I was born and bred in Darwin. My mother was born in Darwin, and her father was born in Darwin, and his mother was born in Katherine - so we are from the Jawoyn peoples.
My great grandmother was brought up to Darwin from Elsey Station, she worked as a house girl for various families in Darwin before she married and had my grandfather. So, we have a long and very rich history here in Darwin and I'm very lucky to have been brought up in a very multicultural place. I also have Torres Strait Islander heritage running through me, which is from my grandmother, my mum's mum. And then there's my father's side, the Scottish side. They came to Darwin in the 60s. So born and raised on Larrakia country - in my little bubble of love, protection and security.
We grew up in a small town urban/regional environment. Whilst we know where we are from, and we know some language, we were brought up in Darwin. My grandfather was brought up in a segregated town, and my great grandmother was also brought up in a segregated town, so she wasn't allowed to go home to country. But she already had her culture, she learnt and did ceremony before she was taken.
Dance is a big part of Torres Strait Islander culture. My little sister had the opportunity to get taught in some cultural dance. She was very lucky. We were too old - we should have done it, but we were busy doing our study and other things. But little sister girl did it.
So, we have our Aboriginal and Torres Strait Island connections, but also Malay and Chinese heritage, so very diverse! My mother's, mother's, father was a Malay man and a practising Muslim. He was involved in opening the first mosque in Darwin. We were brought up to appreciate, love and respect all cultures. I'm so lucky. I thought everyone was brought up like that.
We were brought up to appreciate, love and respect all cultures. I'm so lucky. I thought everyone was brought up like that.
Image: Tania with colleague Mai Mai on their way to Uluru.
I was reading that you helped establish the Human Rights Network of Australia and went on to become the Chair. Can you tell me a little bit about that experience?
Yeah sure. I had a life changing experience through the Diplomacy Training program in 2007, which is run out of the Law Department at UNSW. Through my work with the Fred Hollows Foundation, we were encouraged and supported to attend the two-week human rights and Indigenous rights training course. I learnt a lot about how parliament works, how policy is created and how legislation is passed. This happened around the same time as the NT intervention, so it was interesting to look at this through the lens of human and Indigenous rights.
The network was established to share information, connect people facing situations in their family and community, and to be able to discuss it in a way that doesn't cause arguments - learning to be diplomatic. Which is hard! I'm no longer the chair of that network, but it is still running I believe.
Can you give us a bit of an overview of your career, Tania?
Sure. I'm very lucky as I've had a mixture of experience with both state/territory and commonwealth governments. After I finished school, I started working in customer service work, which was great, I gained skills in communicating with a broad range of people, building my skills and confidence. I spent 15 years in government roles. After that I got a job with 'FORWAARD (Foundation of Rehabilitation With Aboriginal Alcohol Related Difficulties), who provide rehabilitation programs for Aboriginal and Torres Strait Islander people who want to address alcohol and/or drug use. My time with 'FORWAARD' was really grounding. I learnt a lot about the social determinants of health. FORWAARD are a great organisation.
Then I went to work for the Larrakia Nation, traditional owners of Darwin, who are still not officially recognised by governments. I was employed as a coordinator, so my job was to support the Community Harmony program, which was an initiative of the NT Government and the Larrakia Nation. My role was to provide community services and support for people from other country (remote/regional areas) who are coming into Larrakia country and supporting them whilst they were here. We established a photographic ID office, which also provided return to country and crisis accommodation services. It was such a great experience working with the Larrakia. I should also say, I'm married to a Larrakia man, so my children are Larrakia. Whilst I was working there, we would do lots of stuff together as a family, with my husband and kids, which was great. And my kids now work for the Larrakia Nation.
Then I got a job at the Fred Hollows Foundation (FHF) - and this is my 14th year with them.
Image: Tania McLeod and Amanda Sheppard during Intensive Eye Surgery Week Katherine, 2015.
Can you tell me about your time with the Fred Hollows Foundation (FHF)?
I'm a Senior Project Officer. When I joined FHF, I worked in the nutrition program, and at that stage we did not do eye health. I worked a lot with community stores around nutrition and governance. We also did some housing work in regards to food storage.
2006 was the first time I stood on my Great Grandmothers country, I'm lucky to work on country. It's like the universe has led me on this deadly journey, I'm learning so much and meeting so many people, getting back to country, it's great. When I introduced myself I was accepted. That's how lovely our people are. It doesn't matter what colour you are. It's what's inside.
2006 was the first time I stood on my Great Grandmothers country, I'm lucky to work on country. It's like the universe has led me on this deadly journey, I'm learning so much and meeting so many people.
Then I got into eye health. I didn't know anything about eyes! It was a really steep learning curve at first, but I've been working in eyes for 6 years now. When I started, I had to learn all the players, what an Ophthalmologist was, what an optometrist is etc. I'm pretty good now, I reckon I could do cataract surgery (laughs).
I do love my job. It was really hard at the start, but I worked really hard and got there. I love working for FHF and love working for Fred's memory. He is more than eyes to us.
Image: Patrick Ah Kit (RAHP Wurli Wurlinjang) and Tania McLeod during Wurli Wurlinjang Health Service Intensive Eye Surgery Week, 2018.
Who are some of the people you look up to? Who are your role models?
So, most of my role models are in my family. I have my grandfathers and grandmothers - they all have very hard stories, I can't believe that they made it. So yeah, they are my role models. And also my mum and dad – they're a great team, my aunties and uncles and cousins. Then I have Aunty Pat Anderson and Uncle Jack Ah Kit, Marion Scrymgour, Aunty Josie Crawshaw. Work hard, learning for life is the message I get from the people I look up to. AND - you're not always right, and you don't have to be (laughs).
I've been so privileged and lucky with the things people have told and taught me over the years. These are the things I hold close. Yeah, those are my role models.
How do you think we can encourage more young Aboriginal people to consider a career in eye health?
We need to get out there and show people we are here. People might not know that this could be a career for them. We need to have a look at other programs that successfully recruit young people into their sector. We also need to make it attractive. We need to support proper training. We can't expect our mob to be out of pocket, it's too hard. Some try, but it's hard. We need more traineeships, more internships. We need to go to schools and start them thinking about eye health. We need to look at eye health champions, people our mob know, like the Gordon Briscoe's and Trevor Buzzacott's. People need to hear the stories from when a lot of this work started.
My grandson is 5 and I have high hopes he will be an Ophthalmologist one day (laughs). I will also be encouraging my granddaughters when they can understand me!
Image: Tania presenting the DRS camera to Karliy Ahfat, from Sunrise Health Service.
You're a member of the Aboriginal and Torres Strait Islander Reference Group for the evaluation of regional implementation of the Roadmap to Close the Gap for Vision. Why do you think it was important for this group to be established?
I'm really proud and happy that Indigenous Eye Health (The University of Melbourne) has supported the establishment of the group. The group is the product of listening to people's worries and concerns about the evaluation process. The members of the group have a diverse range of experience, skills and knowledge. Having this group ensures that things will be carried out in a culturally safe and responsive way. We need to make sure the group continues to be supported and driven by Indigenous people. I can see the group sticking around for a while because there is a lot of stuff happening in the sector where the group could be utilised.
I agree. Tania, thank you so much for your time, it was great to speak with you!
Thank you! You know I love talking - especially love talking about my family. Thank you for the opportunity.
---
If you have any questions relating to this 'story' please contact Tania McLeod via email: tmcleod@hollows.org
This 'Share your Story' article was published 17 September 2020.