Disability Support Work and COVID-19
Project Details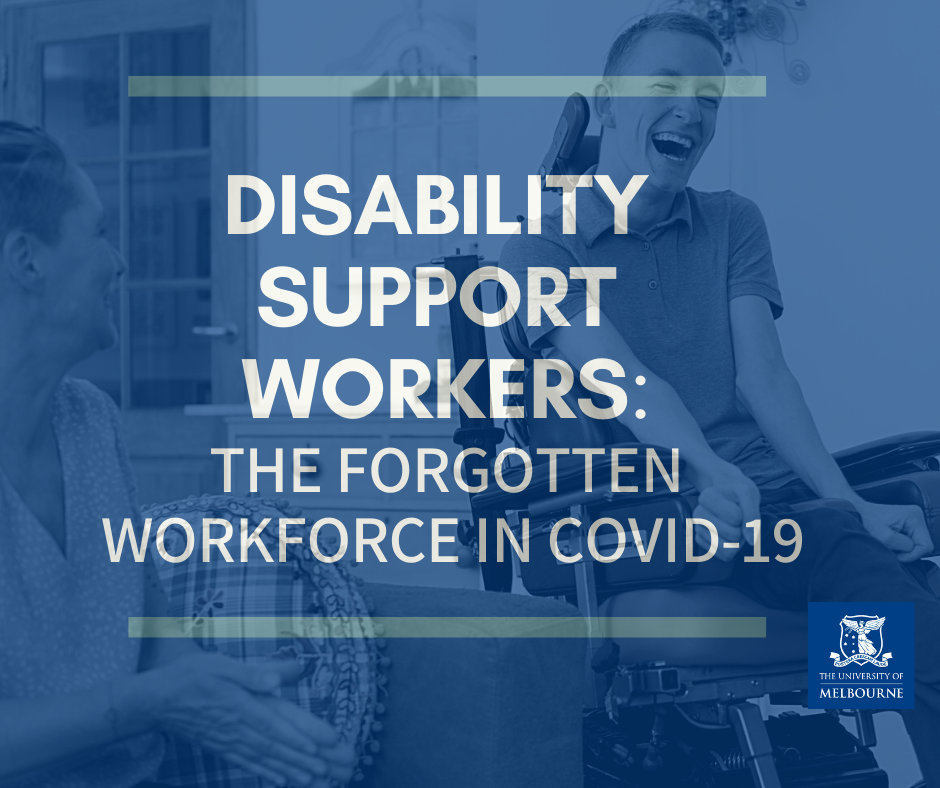 The results of the survey of 357 disability support workers (DSWs) held in May and June 2020 about working during the COVID-19 pandemic is now available in a research report and accompanying fact sheets. These can be downloaded below.
This report outlines an overview of findings relating to physical distancing, COVID-19 infection control training, purchase of Personal Protective Equipment (PPE), COVID-19 testing, support provided, and financial and psychological stresses experienced by workers are summarised along with recommendations arising from the findings (Recommendations 1-8).
Further recommendations are made to ensure continuity of disability support when COVID-19 infection occurs, while minimising transmission risk between workers and the people with disability they are supporting (Recommendations 9-11). These recommendations are summarised before turning to the results.
Our next survey will be going out in August, and we expect to have the findings of Wave 2 available in September.
---
Survey details
Disability support workers are the forgotten essential service workers in the COVID-19 pandemic, despite their vital role in caring for people with disabilities. The safety, health and well-being of disability support workers is critical to ensure that people with disabilities receive timely, adequate, and necessary support.
We want to understand the impact of the COVID-19 pandemic on people who work as disability support workers. In particular, we are interested to learn about whether disability support workers received the necessary training and personal protective requirement (PPE) to reduce their risk and the risk of those that they assist to COVID-19. We also want to know how the pandemic impacts the working conditions, health and well-being of disability support workers over time.
We will use results to propose key lessons on how best to support disability support workers during the COVID-19 crisis and other future crises. The proposed lesson will aim to minimise the impact on disability support workers and people with disabilities. The key lessons will be shared with those we think can make some changes such as like disability support providers, advocacy groups and government.
Help us generate compelling evidence on how we can maintain disability support workers' well-being and healthy working conditions in times of crisis.
What do I need to do?
The study involves completing 3 surveys in total. The first survey is a 10-15 minute online survey which you will complete now, and then again in 3- and 9-months' time. The survey is anonymous and only the research team has access to the results.
Am I eligible?
If you are over 18 years of age and currently work as a disability support worker in Australia then we want to hear from you.
Why should I participate?
Participants will be entered into a prize-draw to win a $50 Visa debit card as a thank you for your participation in this research project. Findings from this study will provide information that can inform how best to respond to COVID-19 and other future crises to minimise the impact on disability support workers and people with disabilities. We need this information to develop strategies and recommendations on how disability support workers can maintain their health and well-being in times of crises.
Researchers
Dr Ashley McAllister, Disability and Health Unit, University of Melbourne
Professor Anne Kavanagh, Disability and Health Unit, University of Melbourne
Professor Helen Dickinson, Public Service Research Group, University of New South Wales
Ms Stefanie Dimov, Disability and Health Unit, University of Melbourne
Ms Mellissa Kavenagh, Disability and Health, University of Melbourne
Funding
Melbourne Disability Institute, The University of Melbourne
Research Outcomes
Kavanagh A, Dimov S, Shields M, McAllister A, Dickinson H & Kavenagh M (2020). Disability support workers: the forgotten workforce in COVID-19. Research Report. Melbourne: The University of Melbourne https://doi.org/10.26188/12756428
There are also related Fact Sheets that accompany the report: