Disability Support Work and COVID-19
Project Details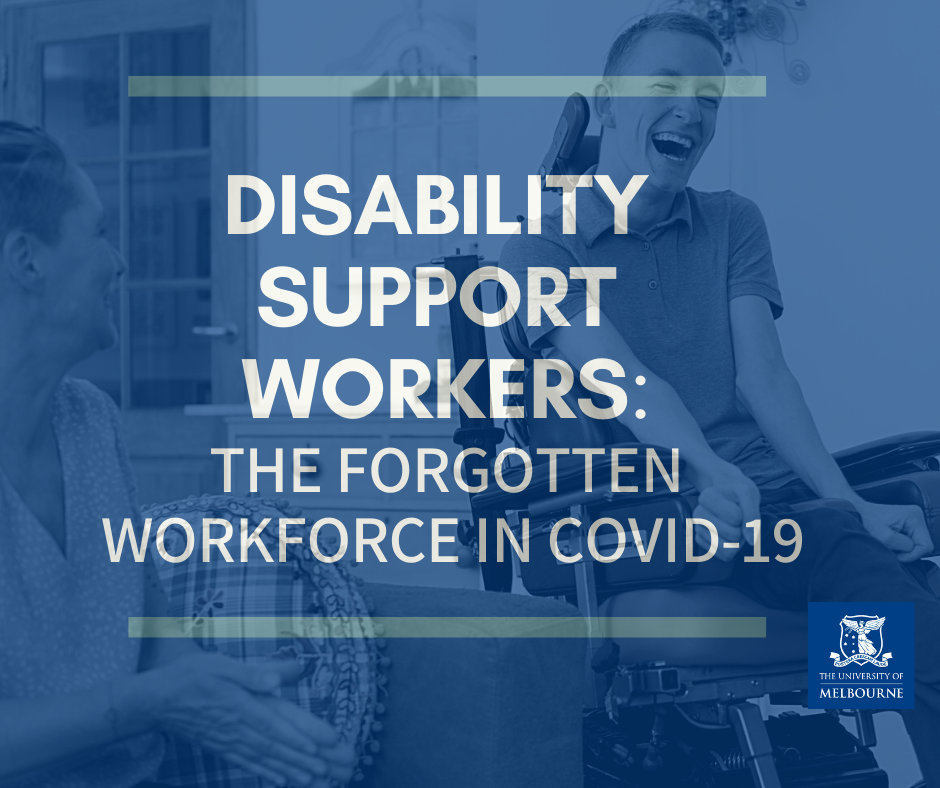 The results of the survey of 357 disability support workers (DSWs) held in May and June 2020 about working during the COVID-19 pandemic is now available in a research report and accompanying fact sheets (Download Report below).
This report outlines an overview of findings relating to physical distancing, COVID-19 infection control training, purchase of Personal Protective Equipment (PPE), COVID-19 testing, support provided, and financial and psychological stresses experienced by workers are summarised along with recommendations arising from the findings (Recommendations 1-8).
Further recommendations are made to ensure continuity of disability support when COVID-19 infection occurs, while minimising transmission risk between workers and the people with disability they are supporting (Recommendations 9-11). These recommendations are summarised before turning to the results.
We expect to have the findings of Wave 2 available shortly.
Researchers
Dr Ashley McAllister, Disability and Health Unit, University of Melbourne
Professor Anne Kavanagh, Disability and Health Unit, University of Melbourne
Professor Helen Dickinson, Public Service Research Group, University of New South Wales
Ms Stefanie Dimov, Disability and Health Unit, University of Melbourne
Ms Mellissa Kavenagh, Disability and Health, University of Melbourne
Funding
Melbourne Disability Institute, The University of Melbourne
Research Outcomes
Kavanagh A, Dimov S, Shields M, McAllister A, Dickinson H & Kavenagh M (2020). Disability support workers: the forgotten workforce in COVID-19. Research Report. Melbourne: The University of Melbourne. https://doi.org/10.26188/12756428
There are also related Fact Sheets that accompany the report: