Violence against people with disability - Fact sheets
Project Details
People with disability in Australia are more likely to experience all types of violence.
It is known from previous analyses in Australia that adults with disability are two to three times as likely to experience all forms of violence (eg. physical and sexual violence, emotional abuse, intimate partner violence), compared to the general population.
Using data from the Australian Bureau of Statistics' Personal Safety Survey, the only Australian population-based survey of violence and abuse which includes information on disability, we release our new analyses on the prevalence of violence and abuse among people with disability. These analyses are available in a series of fact sheets that detail experiences of violence against all Australians with disability, as well as young people's experiences of violence, and differences in how men and women (18 to 64 years) experience violence, based on recent experiences and throughout their lives.
People with disability in Australia also experience violence far more often. For example, they are twice as likely to experience physical violence in the last 12 months; and are two and half times more likely to experience violence from an intimate partner, compared to people without disability.
We analyse different types of violence and abuse and where violence happens. The results demonstrate that certain types of violence are particularly pronounced among women and among young Australians. For example, women with disability experience high levels of intimate partner violence, sexual assault and stalking. They are twice as likely than women without disability to experience sexual violence in their lifetime. Women with disability are more likely to experience intimate partner violence (36%), compared to 21% of women without disability, 15% of men with disability and 7% of men without disability.
We also examine how violence can vary by different types of impairments showing that people with cognitive and psychological disability have the highest levels of all types of violence.
The Fact Sheets on Disability and Violence are available to download below.
Researchers
Dr Georgina Sutherland, Disability and Health Unit, University of Melbourne
Professor Anne Kavanagh, Disability and Health Unit, University of Melbourne
Professor Gwynnyth Llewellyn, Centre for Disability Research and Policy, University of Sydney
Dr Sean Byars, Disability and Health Unit, University of Melbourne
Ms Lauren Krnjacki, Disability and Health Unit, University of Melbourne
Ms Anne-Marie Bollier, Disability and Health Unit, University of Melbourne
Ms Jen Hargrave, Women with disabilities Victoria and University of Melbourne
Collaborators
Centre of Research Excellence in Disability and Health (CRE-DH)
Funding
Melbourne Disability Institute
Research Outcomes
Fact Sheets on Disability and Violence
Violence against people with disability in Australia
(Web, PDF, Word)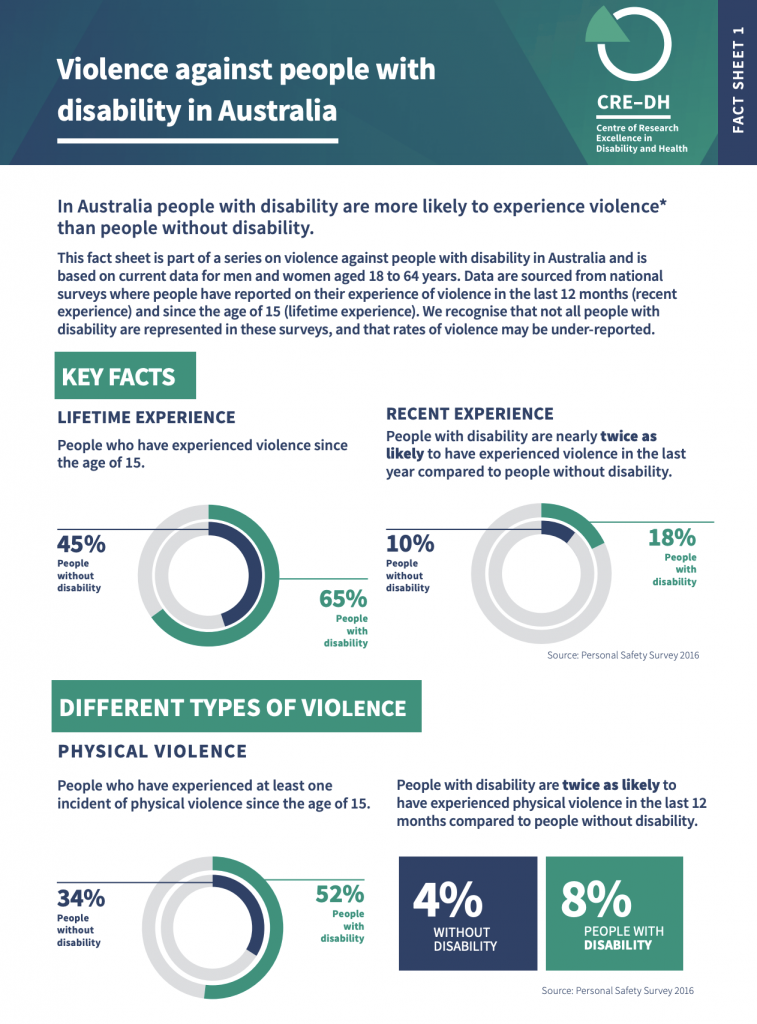 Violence against young people with disability
Violence against people with disability by impairment
(Web, PDF, Word)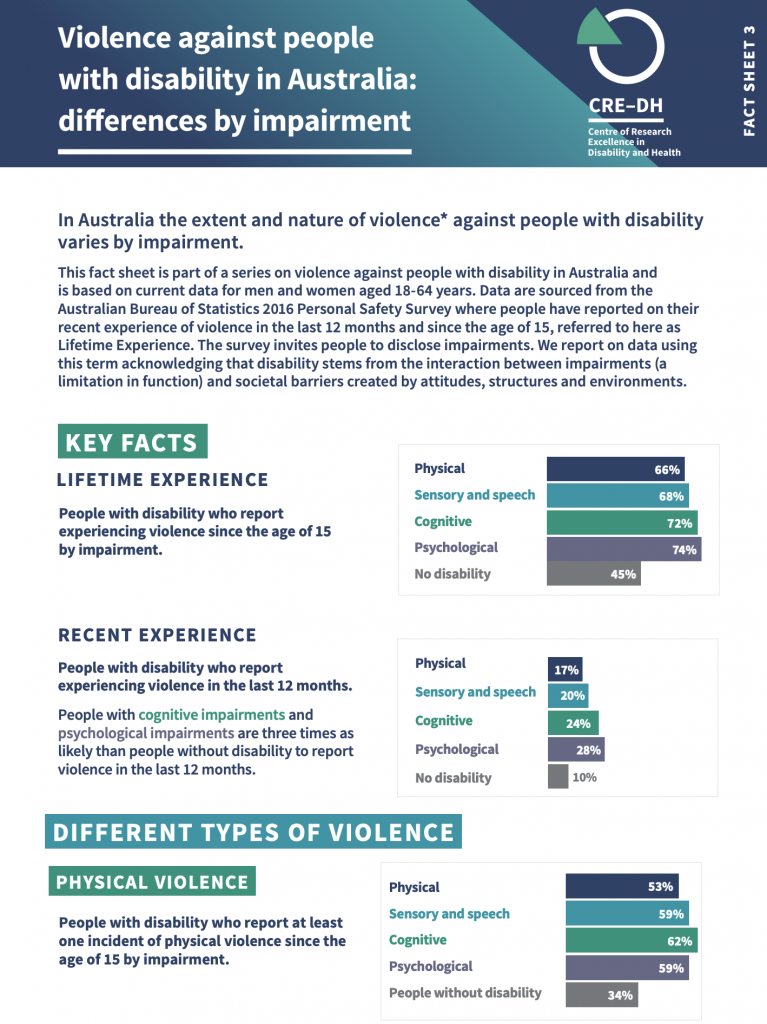 Intimate partner violence and people with disability
(Web, PDF, Word)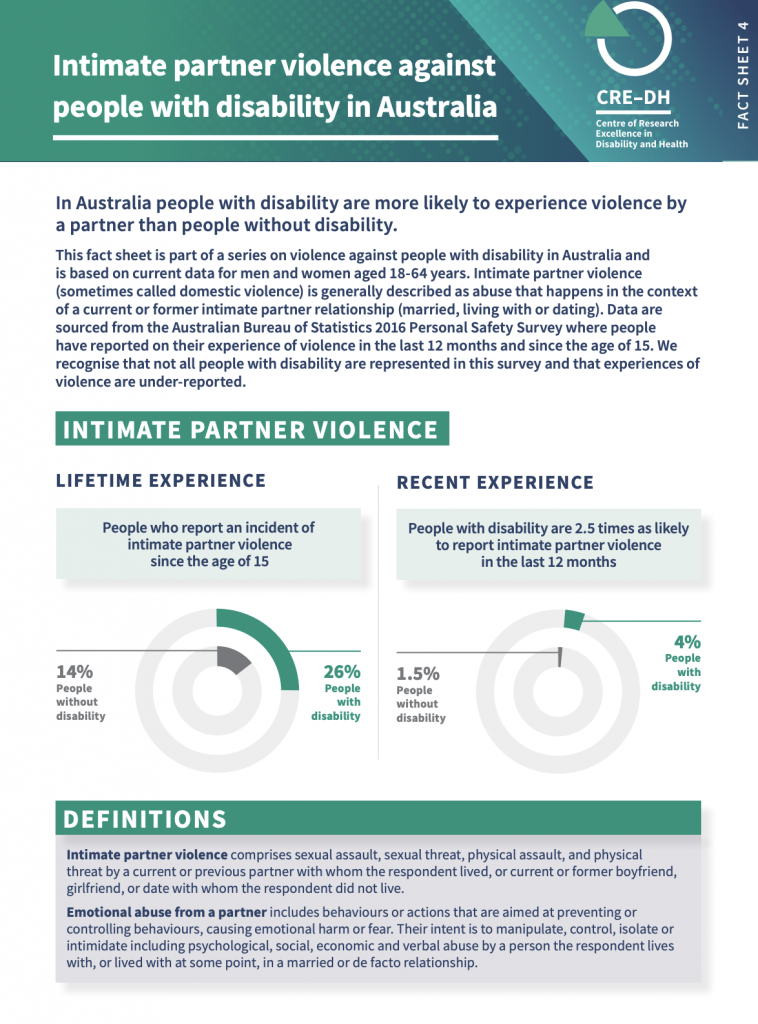 Research Publications
Byars S, Sutherland G, Vashishtha R, Kavenagh M, Bollier AM, Krnjacki L, Hargrave J, Llewellyn G & Kavanagh A (2020). The Australian Disability and Violence Data Compendium. Melbourne: Centre of Research Excellence in Disability and Health. https://doi.org/10.26188/5eb929ebd5aa3