The Evolution of Australia's International Migration System, 1995–2018
Seminar/Forum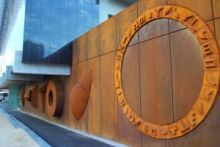 Room 321, Level 3
Sidney Myer Asia Centre

Map
From 1995, Australia shifted the focus of its permanent migration program to one based on skills. At the same time, it simplified its approach to temporary skilled migration and expanded the Working Holiday Maker scheme. Then, in 1998, a new campaign to attract international students commenced. At the time of establishment, these new policy approaches were seen as unrelated policy initiatives. Subsequent incremental policy shifts have melded these varying initiatives into what in many ways is a single system where people arrive in Australia on a temporary visa and transition onshore to a permanent visa. This seminar describes how this occurred and examines the outcomes for the labour force and GDP per capita as well as for the ethnic composition of the Australian population.
This event is hosted by the Asia Institute's research cluster on Migration, Gender and Environment.
A light lunch will be provided.
Presenter
Professor Peter McDonald

University of Melbourne

Centre for Health Policy at The University of Melbourne. Prior to this, he was Professor of Demography in the Crawford School of Public Policy at The Australian National University. He was also President of the International Union for the Scientific Study of Population (IUSSP) for the years 20102013, and is a Fellow of the Academy of Social Sciences in Australia. He is frequently consulted on the issue of population futures (causes, consequences and policies) by governments around the world, especially in Australia, Europe and East Asia. In 2008, he was appointed as a Member in the Order of Australia. He is Deputy Director of the ARC Centre of Excellence in Population Ageing Research. Prior to his present appointment he was head of research at the Australian Institute of Family Studies for a period of 11 years. He has also worked at the Demographic Institute of the University of Indonesia, at the World Fertility Survey, London and the Australian Bureau of Statistics. Throughout his career, he has been actively engaged in the teaching and promotion of demography as a discipline while applying interdisciplinary approaches in his research. He has a PhD degree in Demography from the Australian National University and an Honours degree in Economics Statistics from the University of New South Wales. In 2015, he received the Irene B Taueber Award, the highest award of the Population Association of America, being only the fourth nonAmerican to receive the award.